The laser lift facial is delivered on a systematic basis where each part of the treatment serves a different purpose in restoring the skin from the inside out to restore a more youthful appearance in the face and neck. Treatments are non-surgical, non-invasive and delivers natural-looking, long-lasting results through multiple laser applications in one session.
Treatment areas may cover around the eyes, neck and face, and can vary based on individual needs and age with most sessions involving between 6 to 9 applications.
How many sessions are required for visible improvements?
Most persons see immediate results with improvements in tone, texture and tightness that begin to show a few weeks after the first treatment. Clients usually require at least 3 to 5 treatments to achieve results that can last from 6 to 12 months or longer in persons under 35 years of age.
Pain-free laser rejuvenation delivered intraorally to rejuvenate the delicate tissue inside the mouth. Tightening of the oral cavity results in tighter skin on the exterior around the expression lines, chin and mouth. Smooth Lifting is an ideal treatment for people who want to achieve immediate results that continue to improve over the course of several weeks.
Superficial and deeper layers of the skin is targeted to treat imperfections in the skin. It is effective in treating irregularities in the superficial layers of the skin such as sunspots and lesions. It also improves skin texture. In addition, it tightens the skin and induces thermal heat to stimulate neocollagenesis (production of elastin and collagen).
Entails the use of the ND: YAG fractionated laser to heat the deep layers of the dermis, initiating the process of strengthening the skin structure. This mode homogenously stimulates collagen to gently tighten and remodel the skin from the inside out without damage to the epidermis.
The final step is the resurfacing laser peel which immediately brightens and tones the skin. Superficial treatment safely resurfaces the skin by reducing fine lines, wrinkles and pore size. This leaves the overall skin tone and texture enhanced. This treatment requires no downtime. This step of the treatment can be intensified for a full laser peel with minimal downtime. Most persons see noticeable improvements even after just one treatment.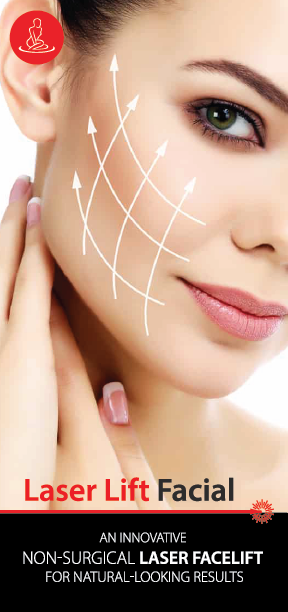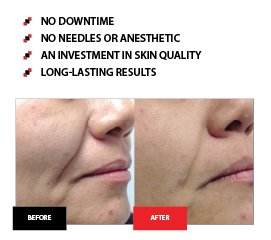 Stimulates the production of collagen

Restores fibroblasts within the dermal structures

Reduces pigmentation

Smoothen wrinkles

Removes fine lines

Removes sun damage

Gently exfoliates the skin

Tightens the skin

Removes creases

Reduces expression lines

Tightens skin around the mouth

Accelerates skin healing

Reduces acne scars

Laser hair removal

Targets fine lines and wrinkles only (does not affect healthy skin)